After the Bear Market of 2018 and in the midst of uncertainty and stagnation in crypto prices, it seems a long time ago when digital currencies knew insolent growth rates!
Do you miss the adrenaline rush you feel when you open your portfolio? Want to find the thrill of 4-digit progressions? Rejoice! We just saw that a very traditional banking product had experienced a meteoric rise of 1000% in 10 years!
The name of this outperforming asset? the "Account Maintenance Fees"…
When it's no longer free, it's still you the product
We all know this little phrase, real mantra which recalls that the apparent gratuitousness of a service is illusory and simply conceals a more hidden transaction. Facebook monetizes your attention in exchange for the addictive ergonomics of its services, private TV channels monopolize your available brain time for their own profit, etc.
Banks have long adopted a similar approach. In exchange for a free range of services, these companies had the privilege and strategic advantages of having your money preciously kept in the safe. From the importance of this heritage managed by proxy, the level of power, influence and, therefore, profitability, mechanically resulted, for the benefit of the banker.
And we, happy contributors to this wealth created from our assets, then royally enjoy intoxicating privileges like the free maintenance of our bank accounts, the issuance of a paper check book and – for the lucky ones – the free provision of a plastic card guaranteeing easy access to our funds. In short, it was Byzantium !
But that was before.
Indeed, somewhere along the way, the Banking Boards began to tell themselves that the population seemed to be mature enough to move smoothly to "the next step": The commodification of what was previously free
How after all, to be mad at our big money men? Hadn't the Western population accepted without flinching that following the disastrous 2008 subprime crisis, hundreds of billions of dollars of public money (the money of savers therefore) can make up for the huge inconsistencies of banks and their crazy traders?
Pub
Next to such a gift, scratch a few crumbs on the millions of small daily operations, it was tempting, right? And indeed, it worked fabulously.
Thus, in 10 years a whole series of banking services whose free access seemed to be taken for granted have not only become chargeable, but have even experienced frightening growth.
Bank charges, To the Moon
In any case, this is what a report from the French Banking Federation, quoted by the newspaper The echoes.
To summarize the information contained in this document from thesemaphore institute and having covered 18 establishments, the following key figures will be retained:
An agency transfer costs on average 28% more than in 2010 (3.70 euros by bank transfer),
an agency withdrawal costs 61% more than nine years ago,
renting a safe costs 14% more, with an average annual bill of 99 euros.
But it is on the side of the so-called "account maintenance" fees (that is, fees to which all the customers of an establishment are necessarily bound, smart), that the counters panic: The average cost of this service has exploded by 1,100%, going on average from 1.43 euros in 2010 to 17.06 euros today!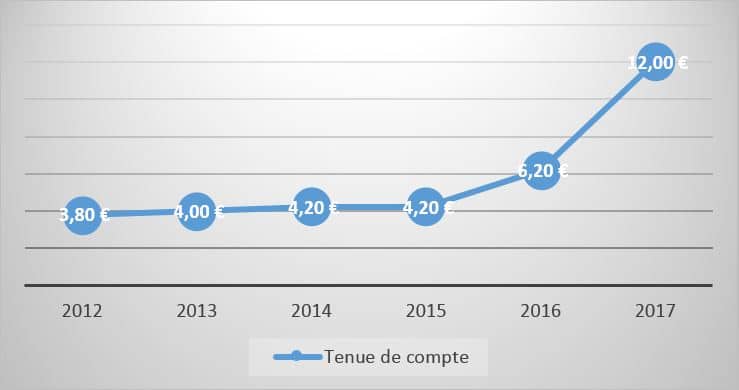 Based on this average, let's take the example of BNP Paribas (at random, it is even possible that this particular bank is not involved in the study). With its 7 million individual customers, it is almost 120 million euros that the management of current accounts would bring in, every year to the Bank. Not bad for almost free operations until recently.
This financial product has therefore grown very well, and we could only recommend it too much to any investor … if it did not exist for the exclusive benefit of banks.
Nice to meet you, it's Hellmouth! Editor-in-chief of Bitcoin, the crypto media you are honoring to survey right now (well done, you have taste).
Crypto-enthusiast of the second hour, nothing is more important to me than supporting the global adoption and democratization of the treasures that the blockchain offers us.
I write articles between two cocktails in Tahiti, my adopted island, and do not hesitate, if the opportunity arises, to feast on a plump scam or a little too enterprising Ponzi pyramid.
Did you not like the article? Do you want to give me your opinion on a subject, or offer me one? You can come and bawl like a polecat or pour out on my LinkedIn profile, on Facebook, or Bitcointalk
Tired of Bitcoin? This banking product has made + 1000% in 10 years! – Bitcoin – Bitcoin 2020
4.9
(98%)
32
votes