On February 17, 2020, the Sport branch of the powerful French communications group Lagardère announced that it had entered into a strategic partnership with Socios, the entity behind the success story Chiliz crypto. It will be recalled that what Chiliz offers is nothing less than to tokenize the ecosystem of football clubs, while re-mobilizing the community commitment of supporters, finally able to influence the lives of their favorite teams. A powerful alchemy with particularly promising potential, which does not seem to have escaped the Lagardère group. Will Bitcoin's descendants find the ideal environment to thrive on the grass of football stadiums? Will the prodigal heir find the hearts of the general public better than the illustrious ancestor? We talk about it today on
Chiliz con carne, a spicy crypto specialty
There's definitely something going on on the forehead of the convergence of the sports economy and the crypto industry. was already wondering a few weeks ago about the relevance of the investment on this combination which could prove to be a real "game changer" (it is of circumstance) in our young industry.
And of course, as soon as we talk about crypto and sport, we immediately think of the initiatives of the combination Socios/Chiliz, the consortium lately increasing partnerships with prestigious football clubs.
Let us judge: PSG, juventus, AS Roma… And most recently the FC Barcelona, in all, nearly a dozen clubs are already involved.
So many prestigious clubs which now have their dedicated tokens. JUV for Juventus, BAR for FC Barcelona…. Concretely, token holders will be able to influence certain decisions of their heart club, will have access to private events, discounts …
In short, the effective synthesis of a subscription or a traditional loyalty card, boosted the crypto-economy! The owners of the club token will thus have a bit of decision-making power over the fate of their favorite team.
What is certain is that the process will affect, more or less quickly, the majority of the most prestigious teams, to the most modest who might have a very relevant monetization model. As such, you will be able to read with interest the current operations of MyTVChain, in full pre-sale at the moment, and whose video monetization model had captured our attention.
Attention also from the well-known group Lagardère which has fully grasped all the potential of this emerging industry. This is how it didn't take long for formalize a partnership between Lagardère Sport and Chilz. It was in Malta a few days ago.
Pub
Lagarère – Chiliz, Foot et Cryptomonnaies, a formidable association
With 6 French football clubs and 16 German soccer teams, including exclusive agreements with the Borussia Dortmund, the Hamburger SV, thereOlympique Lyonnais, thereAS Saint Etienne and theOGC Nice, the sports branch of the communications giant Lagardère is not really there to stay on the sidelines.
We will recall that the French group Lagardère, the parent company, is present in 40 countries, press groups, radio and more than 7 billion euros in turnover. As such, on the occasion of the signing of the partnership between Lagardère Sport and Socios / Chiliz on February 17, 2008, it was a time of enthusiasm:
"We are proud to have signed this strategic partnership with Socios.com. This agreement recognizes our ability to project ourselves into the future and believe in the development of new technologies such as blockchain and cryptocurrency. As a leading sports marketing agency, we must offer the best solutions to our customers and partners, this partnership will contribute significantly. "

Laurent Moretti, Managing Director France of Lagardère Sports
And Socios's side is Alexandre Dreyfus who reminds us: this partnership looks great, but it's only the beginning: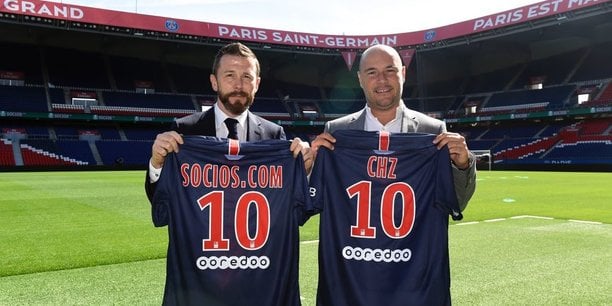 "We have effectively communicated the 2020 objective of the Socios application, which is to obtain 50 partners, and I am delighted to benefit from the support of Lagardère Sports to achieve it. Thanks to its vast network of athletes, clubs, federations and professional sports leagues, together we will build the future of fan engagement for rights holders in France and the United States."
The cryptocurrency is spreading in all directions, to conquer the most varied territories. Meanwhile, the common ancestor Bitcoin is making its way undisturbed, block after block. While the tokens of sports clubs could replace for children born in 2020, the Panini stickers of our childhood, there is no doubt that these multiple heirs of Bitcoin still hold many surprises in store for us.
Nice to meet you, it's Hellmouth! Editor-in-chief of , the crypto media you are honoring to survey right now (well done, you have taste).
Crypto-enthusiast of the second hour, nothing is more important to me than supporting the global adoption and democratization of the treasures that the blockchain offers us.
I write articles between two cocktails in Tahiti, my adopted island, and do not hesitate, if the opportunity arises, to feast on a plump scam or a little too enterprising Ponzi pyramid.
Did you not like the article? Do you want to give me your opinion on a subject, or offer me one? You can come and bawl like a polecat or pour out on my LinkedIn profile, on Facebook, or Bitcointalk
Will the heir of Bitcoin be born in a football stadium? Lagardère Sport teams up with Socios (Chiliz) – News 2020
4.9
(98%)
32
votes